Kru Chris Cichon Passes Instructor Test by Grandmaster Chai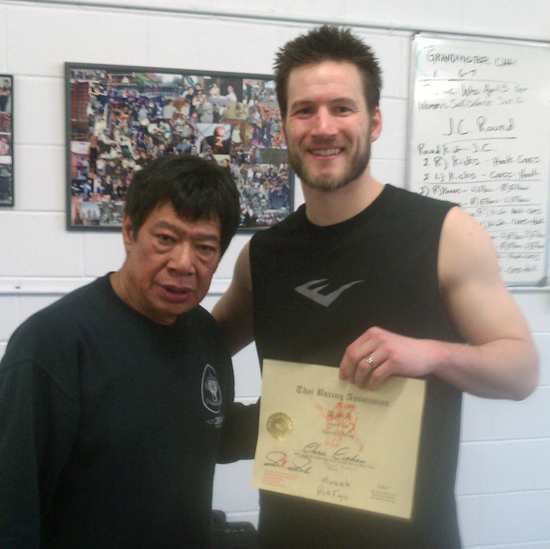 This past weekend, Chris Cichon and Krista Olson participated in a 2-day Muay Thai seminar with the Thai Boxing Association's founder, Sadsadan-Ajarn Chai. During the Saturday portion of the test Chris was singled out by Ajarn Chai and asked to test for his instructor certification under the T.B.A. the following day. The invitation to test caught Chris off-guard, but he was honored to be asked and jumped at the opportunity. The following day after the completion of the seminar, Chris was tested for his instructor certification.
The exam began with demonstrating the ceremonial Ram Muay / Wai Kru that takes place before a Muay Thai bout. Then he was tested on the demonstration of select Muay Thai techniques. To complete the test Chris then had to do two, 3min rounds with different pad holders. During each round Chris needed to land 60 kicks and 40 knees while being punched, kicked, and thrown by his holder. It was a difficult test, especially on short notice, but Chris passed successfully and has earned the title of Khun Kru.
Congratulations Kru Chris!