Team USA Kickboxing Training Camp and Tryouts To Be Hosted at The Cellar Gym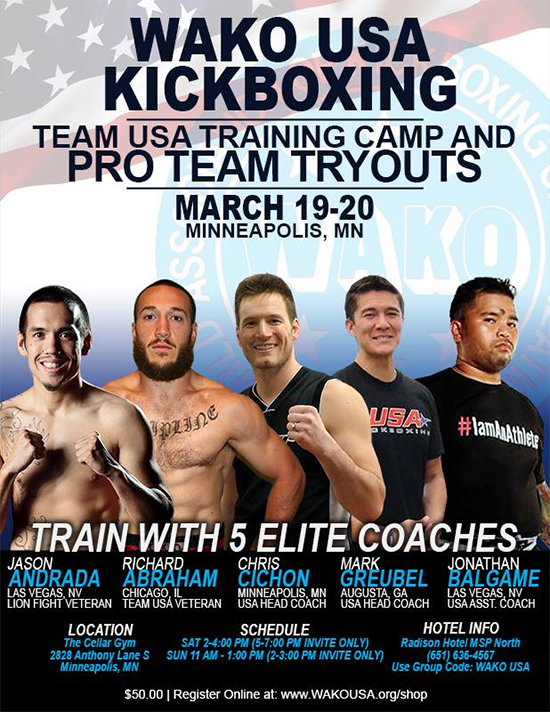 WAKO USA is holding two training camps to help select professional fighters to Team USA:
March 19-20 | Minneapolis, MN @ The Cellar Gym
April 23-24 | Las Vegas, NV @ Fight Capital
WAKO USA is looking to fill spots on Team USA to compete at the 2016 Pan American Games in Cancun, Mexico as well as other professional opportuntites across the world.
The Minneapolis camp will feature a "Technique" portion each day that is open to public and fighters of ALL skill levels. This part of the camp will be lead by expert coaches and fighters: Jason Adrada, Richard Abraham, Chris Cichon, Mark Greubel, and Jonathan Balgame.
Following the "Technique" section, the camp will also hold a special "Invite Only" training session for professional fighters and high-level amateurs.
The cost to attend is $50 and EVERYONE is invited!
– Beginner fighters get the chance to learn new techniques and drills from some of the best coaches and fighters in the USA.
– High level fighters get the chance to learn and share techniques and drills with other fighters and coaches. They also get the opportunity to get excellent training with new people at their same weight.
– Pro fighters get the chance to be added to Team USA, networking opportunities, and high level training with other talented fighters at their same weight.